Bookshop
Bookshop
Walfret Asperatus
Sauvage
Dominique Goblet's selection for her storefront.
Humour, shifting, sensitivity, his paintings are as lively as they are impertinent. Impressionist gouaches where CRS, in love, lost, or unpacking the picnic on checkered tablecloths, Fan-archi fan !!!
Behind the helmets, visors and truncheons breathe ordinary men and women, who have to fight for food, and sometimes dream of freedom. Sauvage is not a commission from the Ministry of the Interior, but the new book by Valfret Asperatus, published by Frémok. In it he dissects, digests and distorts what he sees outside and what strikes him, what he experiences, reveres or vitupers. Bucolic or apocalyptic scenes emerge, which engage the man in the street as well as the cop, and give rise to disturbing or far-fetched monsters, human machines in search of meaning, enjoyment and survival.
The talents of our Republican Security Companies are numerous in Sauvage, where they go beyond their regalian functions. They live there with love and fresh water, rediscover their bodies, whether they are replaying Lunch on the Grass or practising sledding, ballet… taking care not to slip on the blood they have shed. Beneath the armour is the living being who, like everyone else, eats, urinates, makes love, or all three at the same time on a hike, but never without a truncheon. Their paraphernalia is scattered in the half-light of a forest, a magical place between all where humans meet the beast. Conditioned reflexes and impulses inherited from the civilised world return at full gallop, as when it is a question of loading an innocent doe or bringing game back to the beloved.
Sauvage is a discharge of colours, textures, diverted signs, a slow digestion between divagation and seriousness, trivial and sublime, hustle and bustle and impenetrable questions. All knowledge of the world comes undone, matter changes state, refuses to be circumscribed, becomes monstrous or fragile, peaceful or terrible. Under the air of the most truculent delirium, Sauvage questions what survives of us in the storm, how we could transform ourselves into another world, how signs, imperatives and prohibitions, the quest for meaning and primary needs impregnate us.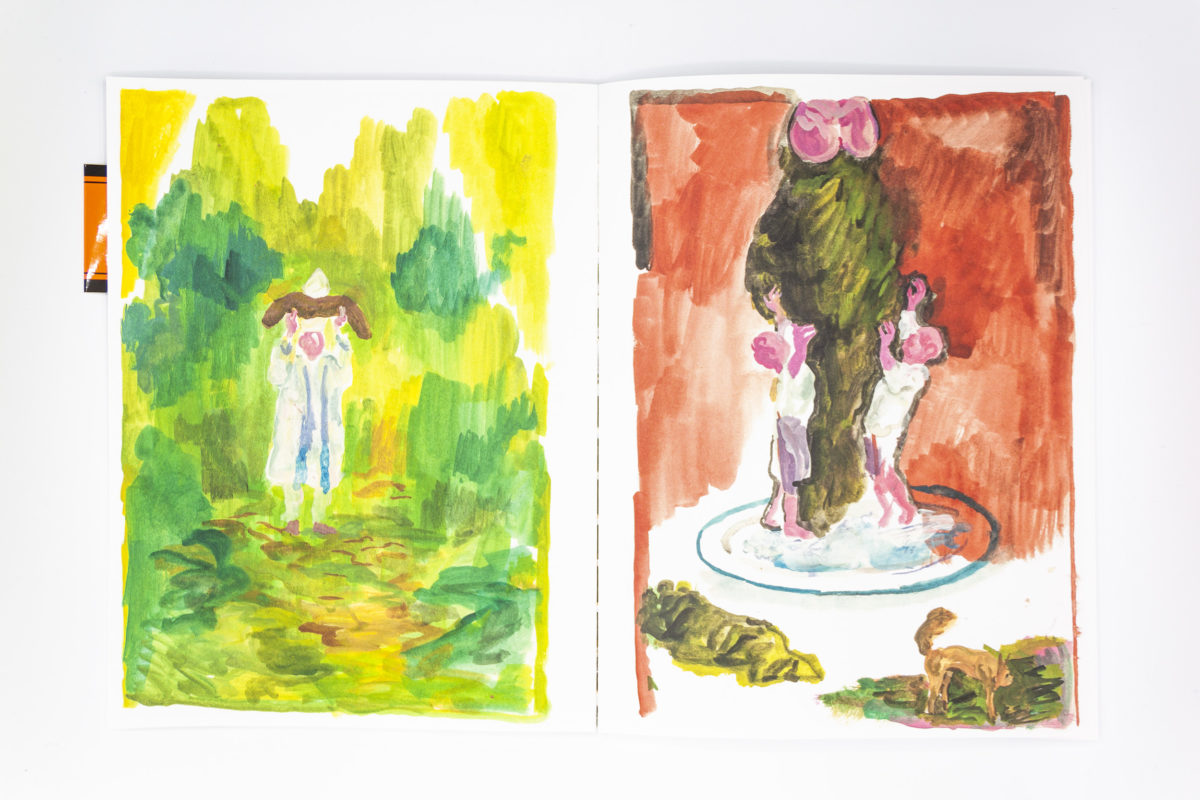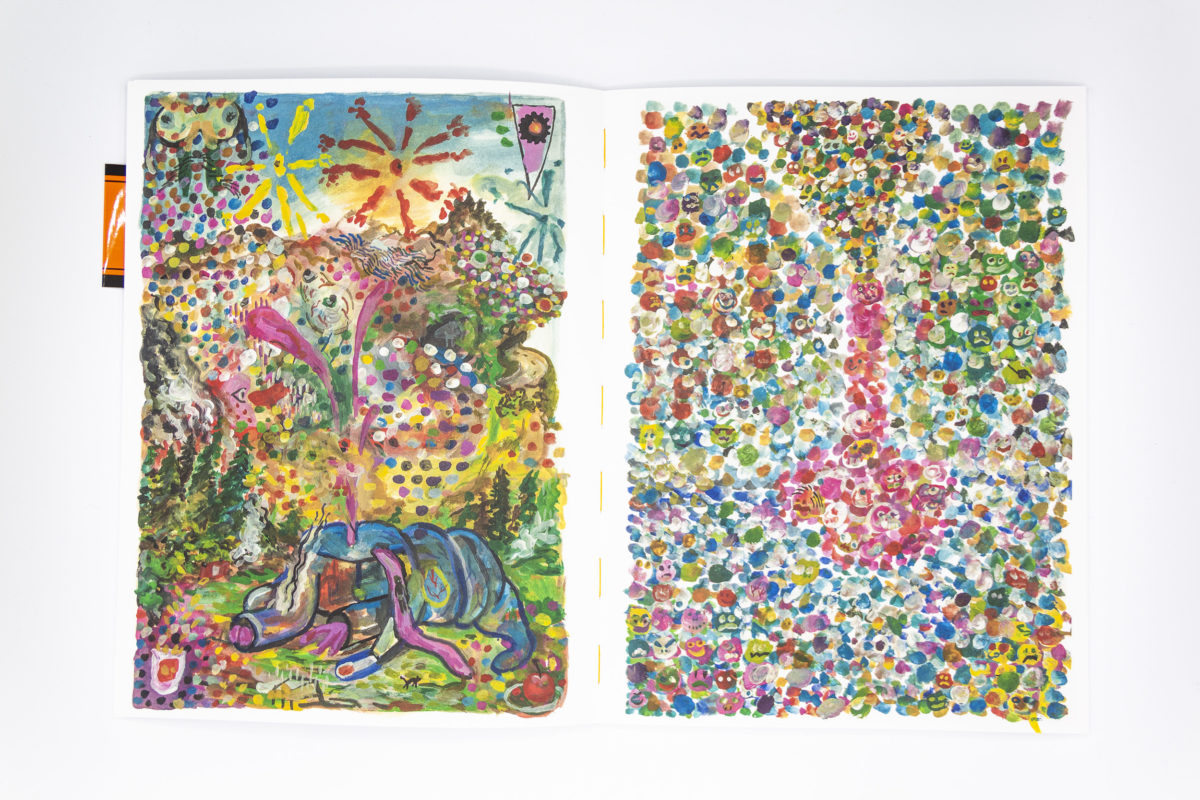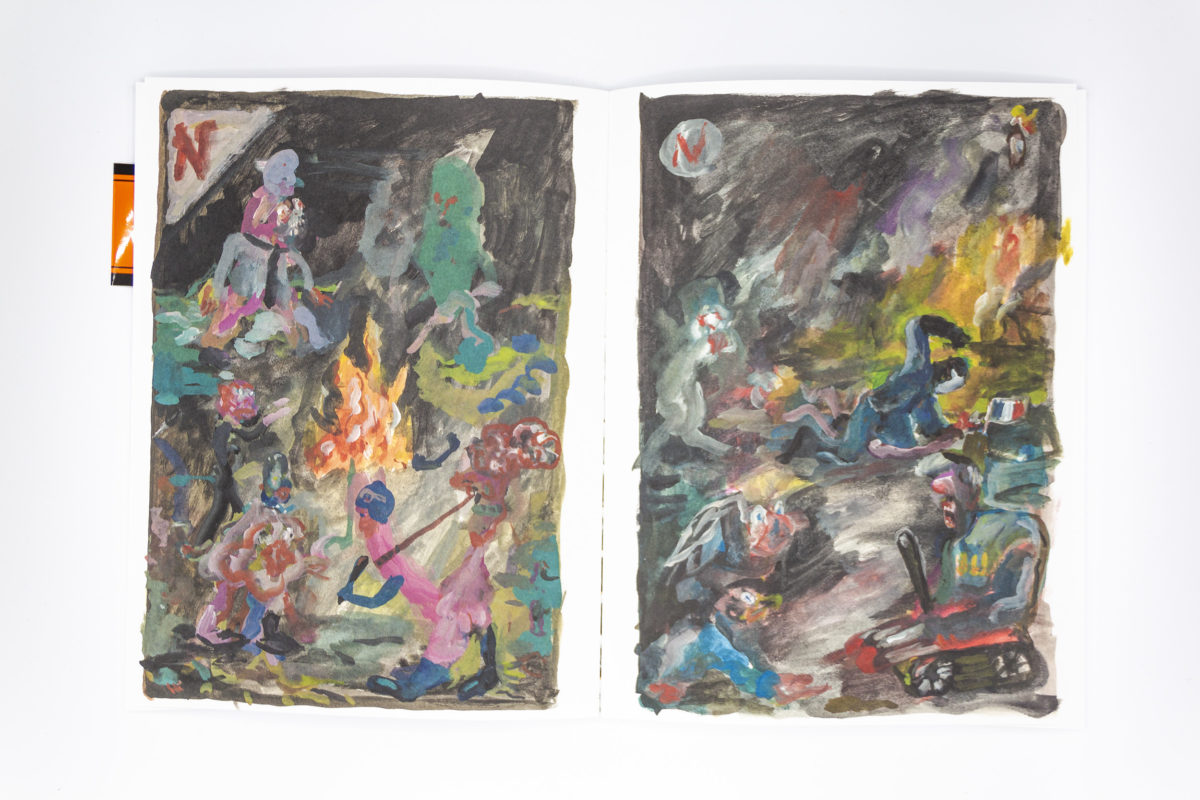 Fremok

Language

French

Release

2021

Pages

72

Format

26.5 x 21 cm

ISBN

9782390220220