Frédéric de Senarclens
Cent regards sur le monde de l'art
The Peinture Fraîche team is pleased to invite you to the launch and signing of the book Cent regards sur le monde de l'art by Frédéric de Senarclens, on Thursday 27 January 2022 from 6 to 9 pm.
Cent regards sur le monde de l'art is Frédéric de Senarclens' first book. In the form of literary capsules, he recounts the highlights of his work as a gallery owner, shares his experiences and divulges some secrets. Not so secret, no doubt. But these are habits and customs, practices that are still unknown to the general public. In short, this book takes us behind the scenes of the art world and our guide is an expert.
This book is the result of a desire to share. The same, no doubt, that drives artists to submit their creations to the public eye. Cent regards sur le monde de l'art is a literary work, the style is incisive and precise. Throughout the pages, the author performs an autopsy of the only sector that remains today without strict rules, without controls. The only one, therefore, where everything is allowed, or almost, where audacity is combined with imagination to make dreams come true or to make money, depending on what each person is looking for. He does this with kindness and humour. And with love for all the protagonists he has met over the years.
"The great comedy. The art world is nothing more than a great open-air theatre, spread over five continents, where the great human comedy, the commedia dell'arte, is played out, with its dealers and gallery owners, its artists, craftsmen and forgers, its foundations, its fairs and biennials, its museums and exhibition spaces, and all its crowd of advisors, intermediaries of all kinds, brokers, affable or fussy experts, so-called connoisseurs, patrons, students, professors, not forgetting its bubbling clusters of collectors. Stories are told on the floor and passions are exchanged. In the passages that lead to the parterre, a joyful and mischievous, sometimes devious, crowd slips through. Behind the curtains of a superbly decorated stage, hidden from view, in the most absolute omerta, a hidden door contains truculent stories, a place where plots are hatched, where secrets are shared and whispered. The gallery shed is not just a warehouse where nails, screwdrivers, stepladders and old frames are kept, but also a bizarre world, both terrifying and endearing, a world of laughter, mischief and villainy. This book is a series of aphorisms, literary ritornellos, a quirky essay on the agora where coveted coins are bartered by a surprising population."
As of March 2020, art is considered non-essential by the leaders of most countries in the world. Yet it is well known that art reflects the world in which it is produced. And sometimes even anticipates it.
"History is entering an era without limits, without barriers. Like a child, the artist sets himself challenges and seeks limits to reveal himself to himself. The audience, as a young father from the 1960s, does not impose any limits on him: on the contrary, it encourages him in his creative delirium."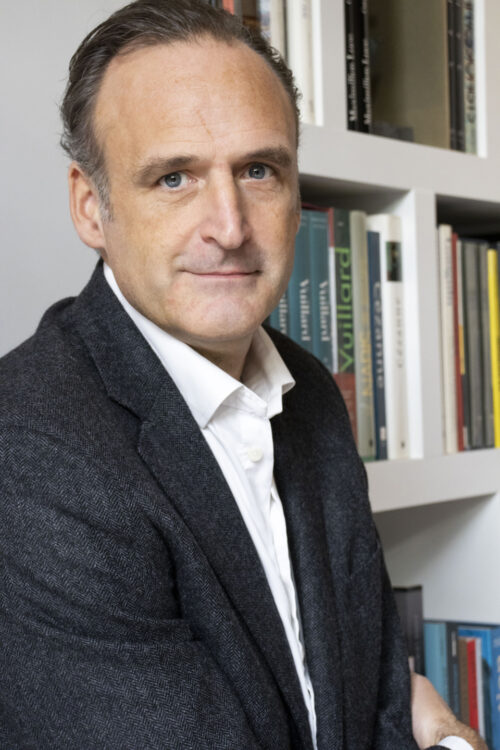 The author :
Art dealer and consultant, Frédéric de Senarclens has run modern and contemporary art galleries in Geneva and Singapore, representing internationally renowned artists such as Bernar Venet, Fabienne Verdier, Thukral and Tagra, Chun Kwang Young, Armen Agop and Pablo Reinoso. He has contributed to the installation of monumental sculptures in Switzerland, Singapore and Australia, edited a series of exhibition catalogues and participated in the publication of books on tribal and contemporary art. He is also particularly interested in the impact of new technologies such as blockchain and artificial intelligence on the art market which led him to create three websites: ArtandOnly, ArtMarketGuru and ArtandCollect. He regularly takes part in conferences and discussions on the evolution of the art market.
The least we can say is that Frédéric de Senarclens is an enthusiast in tune with the times as well as a talented discoverer. He contributes greatly to the dynamics of the art market and to the knowledge of art.