Dominique Goblet
What is in the mind of Belgium based artists and art thinkers these days? We periodically invite a protagonist of the prolific Belgian art landscape to curate our storefront, and share a list of books synthesizing their creative and intellectual mood. Scroll down to get inspired.

DOMINIQUE GOBLET for Peinture Fraîche.
Born in 1967 in Brussels, Dominique Goblet is one of the great names of the new generation of French-speaking Belgian authors. A former student of illustration at the Institut Saint-Luc (Brussels), she participated, between 1991 and 1995, in the creation of the group Frigoproduction (which later became Fréon-Frémok) and began to approach comics through numerous short stories published in various magazines.
Her first book, Portraits crachés, published by Editions Fréon, brought together stories and images that had appeared in the magazines that were emblematic of the comics revival of the 1990s. Her first long story, Souvenir d'une journée parfaite, published by Fremok (FRMK), appeared in 2001. In 2008, Faire semblant c'est mentir (L'Association), which recounted her childhood and her relationship with her parents, was nominated at Angoulême. In the same year it received the International Prize of the City of Geneva. In 2010, she completed Chronographie (L'Association), a collection of portraits she has made of her daughter and her daughter of her since 2002. Plus si entente (FRMK and Actes Sud BD), co-written with Kai Pfeiffer, and L'amour dominical (FRMK), the result of a duo work with Dominique Théate, complete her work.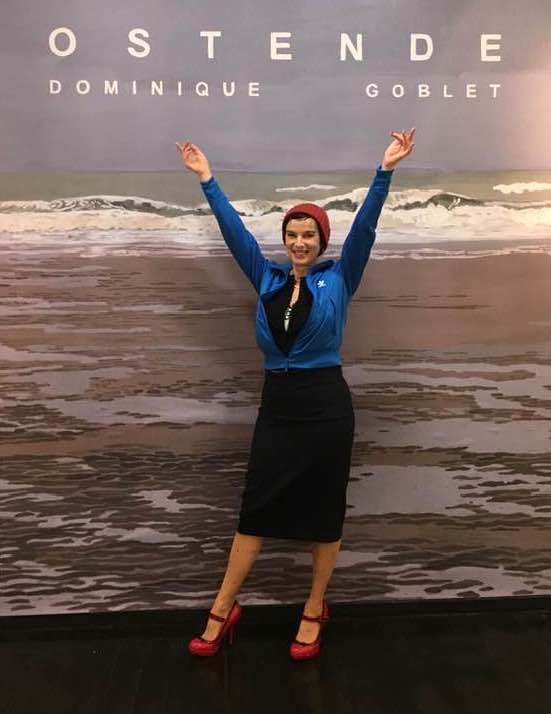 Dominique Goblet is also a visual artist and regularly exhibits paintings and sculptures in Belgium and abroad. Her mixed techniques and multiple influences are used to create a unique graphic style.

As proof that the Belgian author and illustrator is recognised by her peers at an international level, Dominique Goblet has been appointed president of the jury of the Angoulême Comics Festival in 2019. Before receiving the Atomium prize from the Wallonia-Brussels Federation, Dominique Goblet had received, in November 2019, the Grand Prix Töpffer 2020. This prize, awarded by the canton and the city of Geneva, rewards, each year, a French-speaking artist for the whole of his work.
In 2021, Dominique Goblet published Ostende and the Ostend Notebooks.